Chinese Cabbage Recipe
Full preparation time
15 minutes
Cooking time
25 minutes
For how many people
4 people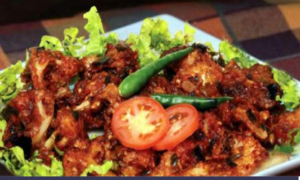 Ingredients
1 flower cabbage is a number
2 ginger (crushed) one teaspoon
3 garlic (crushed) one teaspoon
4 Corn flour 2 tablespoons
5 teaspoons of celery 1/4 teaspoon
6 cayenne pepper 2 teaspoons
7 Salt Custom Flavor
8  Chinies salt 1/2  teaspoon
9 teaspoons of soy sauce
10 tablespoons a tablespoon
11 ketchup half cup
Preparation recipe
1 Wash the cabbage well and cut off its flowers and also finely chop the stalks.
2 Now add corn flour salt, a little ginger garlic paste, celery and cayenne pepper in a bowl and fry. The mixture should be thick.
3 Now heat the oil in a frying pan over high heat and when the oil starts to harden, lighten the heat.
4. Now dip cabbage flowers in corn flour mixture one by one and fry them on golden complexion.
5 In another pan, fry the onion in a little oil. When the onions become soft, add ginger garlic paste, cabbage stalks, celery moto, soy sauce and vinegar and fry the spices.
6 After roasting, put the fried cabbage flowers in it and put the ketchup on a light flame.
7 This delicious cabbage dish you eat with rice and ketchup and enjoy the unique taste.
Recipe to Make Cabbage with Cream Sauce
Full preparation time
20 minutes
Cooking time
30 minutes
For how many people
6 people
Ingredients
1 closed cabbage (finely chop) 250 grams
2 cream 1/2 cups
3 tablespoons of chicken for 2 tablespoons
4 garlic cashew nuts (Finely chop)
5 teaspoons chilli powder 1 teaspoon
6 Salt Custom Flavor
7 sesame oil 3 tablespoons
Preparation recipe
1. Heat sesame oil in a saucepan and fry the garlic in it and fry the cabbage and chicken and cook over high heat.
2.  After 30 seconds add the black pepper powder and salt
3. Cook for a while so that the cabbage is closed
4. Add the cream and cook for another 3-4 minutes
5. Remove from the heat and serve in a serving dish